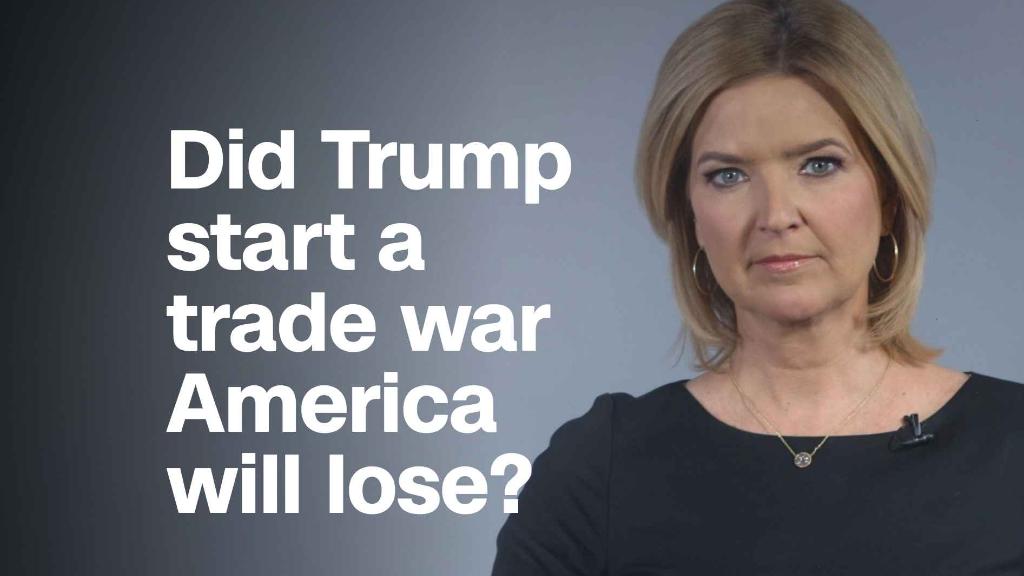 1. Trump vs. Trump: It's been 16 months since the election, but Wall Street is still trying to figure out which President Trump it will get.
Will it be pro-business Trump? His big corporate tax cuts and deregulation agenda fueled the stock market boom.
Or populist Trump? He demonized Goldman Sachs (GS) and hedge funds on the campaign trail and attacked American icons like Ford (F) on Twitter.
More recently, there's been protectionist Trump, whose love of tariffs and tirades against trade deals have raised the specter of an unwinnable trade war.
The pro-business crowd has been sounding the alarm about Trump the trade hawk since the White House proposed steep tariffs on aluminum and steel imports. They are set to go into effect in two weeks.
The Business Roundtable, a powerful business lobby, called the tariffs a "major unforced error" by Trump that will put "tens of thousands of American jobs at risk."
The Wall Street Journal's editorial page went a step further, saying Trump's "protectionist eruption" is a "dangerous moment" for his presidency. The risk, the paper said, is that he "veers into the Herbert Hoover ditch."
Related: Tariffs, Trump and trade war: What it all means
Wall Street seems to be betting that pro-business Trump will win, or at least that his tax cuts will provide a cushion against trade turbulence.
That bet may be based in part on Trump's own obsession with the performance of the stock market. Surely he wouldn't do anything to risk that, right?
Stocks climbed on Thursday after Trump softened his tariff stance by offering indefinite exemptions for Mexico and Canada. Trade fears were firmly in the rearview mirror by Friday as the Dow surged after a "Goldilocks" jobs report revealed strong employment gains coupled with modest wage increases.
But the risk of trade trouble is hardly over. Much will depend on how trading partners, especially the European Union, respond if they don't get exemptions of their own.
S&P Global Ratings warned in a report on Friday that Trump's tariffs raise the risk of a "retaliatory spiral." While a "full-scale trade war" isn't expected, the report said, "such an outcome is not assured."
And don't forget: Trump has signaled a bigger trade crackdown more squarely aimed at China is coming.
Chris Krueger of Cowen Washington Research Group lamented in a recent report that "predicting what is going to happen on trade policy is impossible."
The path for a more muscular trade agenda has been cleared by the resignation of Gary Cohn, Trump's top economic adviser and a staunch defender of free trade.
Cohn's eventual replacement could offer clues to Trump's next steps. Will he tap a defender of free trade like Larry Kudlow or even a Cohn-like deputy and Wall Street veteran, such as Shahira Knight?
Or will he go the other way and select a trade hawk like Peter Navarro?
If it's Navarro, Wall Street may be forced to prepare for protectionist Trump.
2. Inflation watch: On Tuesday, the Labor Department plans to release the Consumer Price Index for February. Wall Street will pay close attention to the inflation indicator.
In January, inflation rose faster than economists expected. That's bad news for investors, who fear that inflation could prompt the Fed to raise interest rates more quickly — and steeply — than it had planned. The Dow dipped slightly in early morning trading when the inflation figure was reported last month.
The market also reacted wildly following January's jobs report, which revealed that wages grew at the fastest pace in eight years.
Inflation fears have receded in recent weeks, especially after the February jobs report showed strong employment gains but a slowdown in wage growth. The Dow surged 441 points on the news.
Related: Dow surges 441 points on strong jobs report
3. Consumer snapshot: The Commerce Department on Wednesday will release February's retail sales. On Friday, the University of Michigan will reveal its consumer sentiment index for March.
Taken together, the two will shed light on how American consumers are feeling.
In January, US retail and food services sales ticked down 0.3% from December, but were 3.6% higher than in January 2017. And Michigan's index showed that Americans were out shopping in February: consumer sentiment was at its second highest level since 2004.
Related: Whoa! 313,000 jobs added last month. Here's where they came from
4. Jewelers report earnings: Signet Jewelers (SIG) is set to report earnings on Wednesday, and Tiffany (TIF) on Friday. The two jewelers are facing very different challenges.
Signet, which owns mall-based Kay, Jared and Zales, reported weak sales last quarter and over the holidays. Mall closures are hurting the affordable jewelery brands, and will likely continue to pose a threat.
Tiffany, on the other hand, had a good third quarter and great holiday sales. But the luxury jeweler is worried about this year — in January, the company lowered its expectations for 2018.
Related: Tiffany had a good holiday season, but it's worried about 2018
5. Coming this week:
Tuesday — Consumer Price Index; Dick's Sporting Goods (DKS) earnings
Wednesday — Signet Jewelers earnings; US retail sales
Thursday — Dollar General (DG), Broadcom (AVGO) earnings
Friday — Tiffany (TIF) earnings
CNNMoney (New York) First published March 11, 2018: 9:29 AM ET